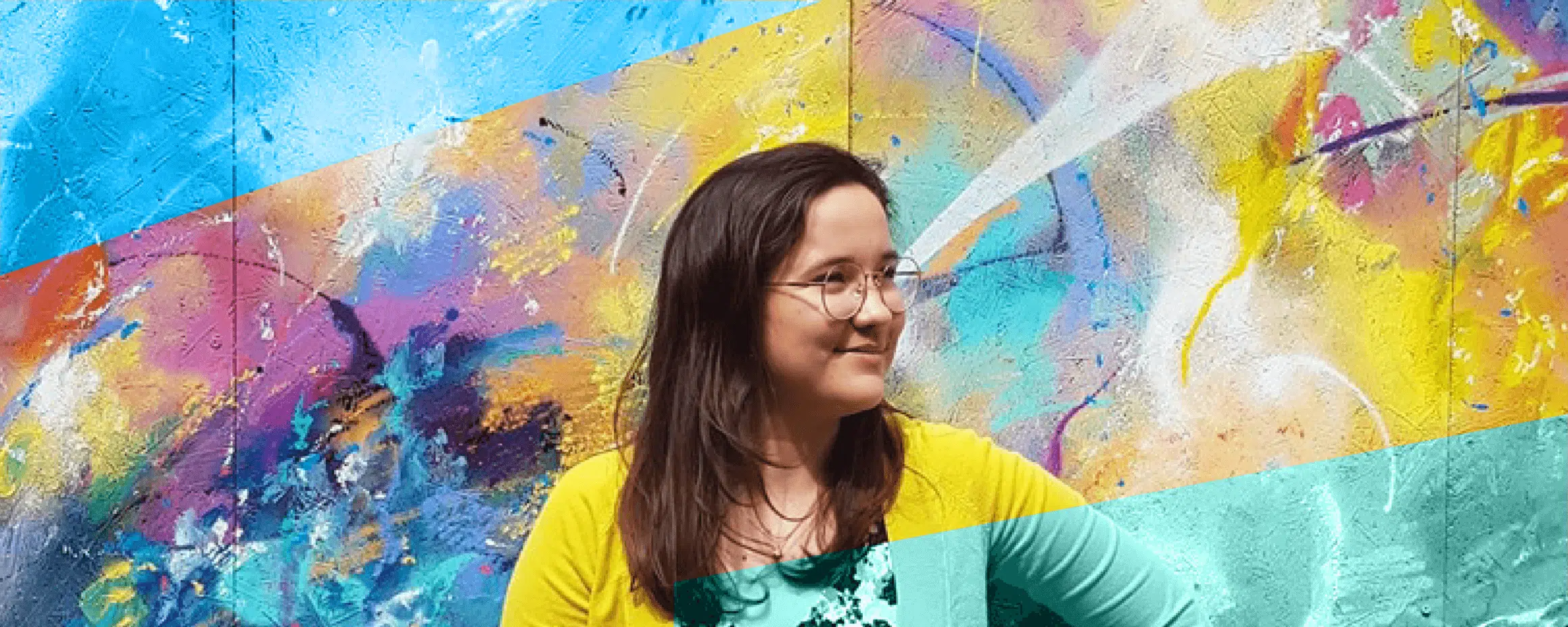 Weronika was diagnosed with Type 1 diabetes when she was 4 years old (today, she's 29). She experienced diabetes burnout… She never gave up, and eventually succeeded in getting back on her feet! It encouraged her to spread the word about diabetes, educate and help people to cope with it… After a long run to accept her chronic disease, she's now ready to have a beer with her diabetes! ?
In A Few Sentences, Can You Present Yourself And Your Activity/ies Within The Diabetes Online Community?
My name is Weronika, I am an artist, online creator and diabetes advocate. I have been living with Type 1 diabetes for 24 years and counting (unfortunately hashimoto, endometriosis, atopic dermatitis, chronic migraines with aura and IBS joined my chronic party). My professional background is Exhibition Design & Visual Communication, and Internet Marketing. Since 2013 I've been running a diabetes blog and social media channels where I share my thoughts, tips and stories. Every year I engage in various health- or diabetes-focused programmes, campaigns, and actions. Currently, I am a participant of IDF Young Leaders in Diabetes Programme, member of IDF Blue Circle Voices network, T1International Digital Advocate and more.
Read more: Autoimmune Diseases Associated With Type 1 Diabetes
What Made You Start Your Advocacy/Educational Work In The First Place? And What Makes You Keeping On Everyday?
Good things come to us when least expected. In my case it was diabetes burnout that turned my life around. After mental healing, I wanted to show other people with diabetes that they can do everything, and they don't have to be afraid of diabetes.
A few years have passed since that time but I still feel like I have 100 ideas every day and that there is always something to work on. I feel this constant need to create, to motivate, to inspire and to support people from the diabetes community.
I am planning to start making more content in English in the form of a blog or a YouTube channel (or maybe both?).
One Thing You Wish Someone Had Told You When You Were Newly Diagnosed? Or That You Would Tell Your Younger Self?
I was diagnosed when I was 4 years old, so I don't remember much from the time of the diagnosis. I only have some blurry memories of pain and of emotions such as confusion, fear, sadness. I think I would tell my younger self "It's going to be a long run, there will be ups and downs, but never ever give up. You will meet amazing friends; you will travel the world and you will turn your diabetes around with creativity and passion. Remember, you can do it!".
Read more: When Diabetes Takes Center Stage On Social Networks 
One Thing About Type 1 Diabetes You DON'T Want To Hear Anymore?
I don't want to hear about people with Type 1 diabetes dying because of insulin prices, getting hurt because of some fake "cure" or being discriminated because of lack of education and ignorance. We need to STOP it as a community.
If Your Diabetes Was A Real Person And You Could Talk To Them Once In Your Life, What Would You Say?
Since we've known each other for so long I would probably say "hey, long time no see" and then we would go out to grab a beer and have a conversation about old times ? No matter how you look at it, diabetes is my oldest friend 😉
You Favorite Hypo Treat(s)?
Jellybeans and gummies, but I won't say no to glucose tabs, banana or a juice.
Your Favorite Low Carb Food/Snack?
I love different varieties of cheese, tomatoes and polish sour cucumbers!
Your Favorite High Carb Food?
I can't live without pizza, fries and sushi!
Diabetes Burnout: What Do You Think About It? Personal Experience? Any Advice On How To Deal With It?
I experienced diabetes burnout in 2013 when my diabetes officially became an "adult". I was overwhelmed to be so young, and already living with Type 1 for 18 years. I was sad that diabetes would stay with me for the rest of my life. I wanted to do something about this situation. My diabetologist noticed that Iwas acting differently and that my blood sugars were worse. He was the one to suggest a psychotherapy and helped me get back on my feet. I had professional support, but I wanted to do something more. I wanted to change my perspective on diabetes and that's how I started my blog. Sharing my problems, hopes and dreams helped me understand that I am not alone. I started to be active within polish diabetes communities, and that's how my journey began…
If Your Diabetes Was A Song?
#BONUS: Does Diabetes Limit You In Any Way?
NO ☺ I never thought I would never say, but I think that it brought so many amazing people, opportunities and moments to my life, that I just couldn't live without it. I am not diabetes, but diabetes is a part of me, and it made me who I am today!