Are you a fan of video games? Of course you are! Have you ever come across a character with Type 1 diabetes in a video game? Probably not.
Many population groups aren't well-represented in films and TV series, and the more we distance ourselves from these mainstream media outlets, the rarer the representation becomes.
Of course, that doesn't stop us from looking for it, and sometimes we do find some!
We Happy Few
We Happy Few is a first-person action-adventure survival game set in a dystopian world. It was released in 2018, when there was a boom in this style of independent games. 
The action takes place in a frightening London setting in the mid-1960s, in the wake of an alternative end to World War Two. In the game, you switch between playing three different characters, including Ollie Starkey, who is living with Type 1 diabetes.
The character has a life gauge and an endurance gauge, as well as a sleep gauge and a blood sugar gauge, which both influence the life gauge1.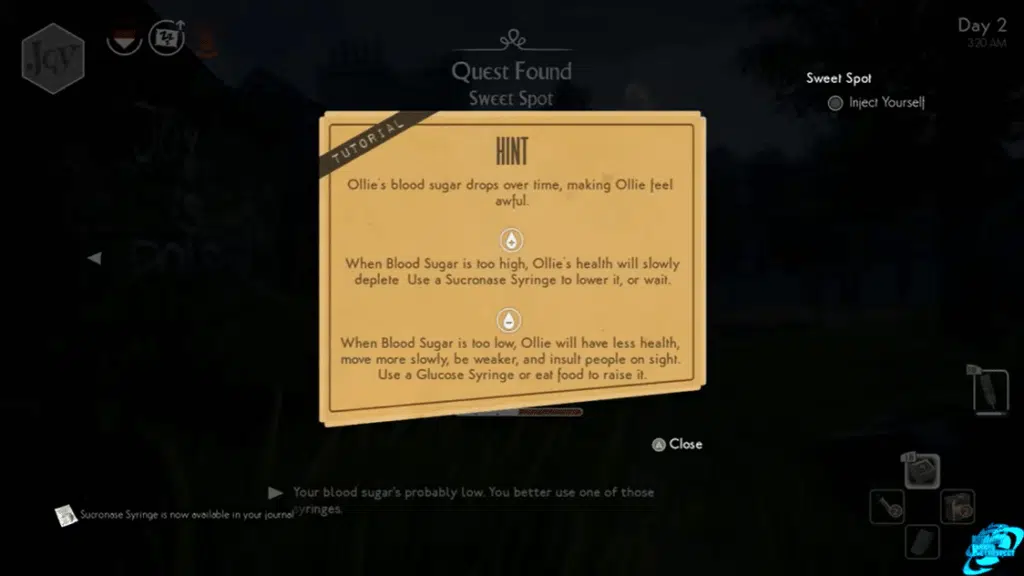 To make sure that the life gauge isn't impacted, Ollie's blood sugar levels must stay between 0.7 and 0.42, and it doesn't stray from real life, with its measurement in mmol/L.
When Ollie has low blood sugar, his health and endurance gauges empty by 50%. He'll insult other characters more often, and therefore risk getting into fights.
When he has high blood sugar, his health gauge reduces by 1% every 8-10 seconds.
Read more: How important are blood sugar levels in Type 1 diabetes?
As a form of sugar intake, Ollie can eat different foods to boost his blood sugar levels:
| | |
| --- | --- |
| Apple | 0.01 |
| Glucose syringe | 0.4 |
| Grapefruit juice | 0.1 |
| Honey | 0.2 |
| Ollie's Toddy | 0.1 |
| Pie | 0.7 |
| Slice of pie | 0.2 |
| Potato | 0.2 |
| Rotten potato | 0.15 |
| Sandwich | 0.1 |
| Scotch | 0.1 |
| Yam | 0.1 |
He can also make up glucose syringes using empty syringes and honey. He can then inject honey directly into his bloodstream, by injecting his forearm, to bring his blood sugar levels back up. Don't try this at home, though…
To reduce his blood sugar levels, Ollie injects himself with an anti-diabetic product which was actually used to treat diabetes at the time in which the game is set. However, this is an oral medication designed to treat Type 2 diabetes3,4, and insulin was already around in the 1960s! If you're going to make medication made from charcoal, flowers, and rotten mushrooms (the ingredients of the medication in the game), you might as well make it right…
Sleeping automatically reduces his blood sugar by 0.01 per hour.
As a light-hearted touch, you can win the "Sugar Daddy" award once you've injected Ollie 10 times with a glucose syringe5.
To summarize, Type 1 diabetes' integration into the game is pretty impressive, and it's rare to see its presence featured in a gaming context other than in an educational setting. However, there are still some inconsistencies.
Type 1 Diabetes In Retro Gaming: Captain Novolin
™
If you're a retro gaming fan, you might recognize Captain Novolin™, a platform game released on Super NES in 1992, available in the United States and Canada.
Halfway between an educational game about diabetes and a "real" video game, it was sponsored by a large, leading pharmaceutical group and intended to teach kids how to manage their diabetes. That said, it was released on a Nintendo console, and not on a PC, like most educational games, and it has its own objective: saving the town of DesPins from aliens, who have taken the form of sugary foods, and who have kidnapped the mayor.
In the game, you play a hero who is living with Type 1 diabetes, and the game achieved notoriety outside of the Type 1 diabetes community… As one of the worst games ever created! Alongside playing a hero who dies as soon as he's hypo– or hyperglycemic, the maneuverability is pretty poor, and the enemies are extremely difficult to kill or avoid6.
Captain Novolin is full of doctors' advice, as well as fairly questionable jokes, such as the alien leader who is called "Blubberman".
The game isn't particularly clear on what you need to do, such as here, where you can't really understand whether you need to enter your blood sugar level or select the sugar intake quantity, and where it turns out that you were preparing an insulin injection. Yet, without any numbers, you can't really know how much insulin you're injecting – that would be too easy, right?!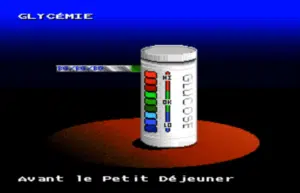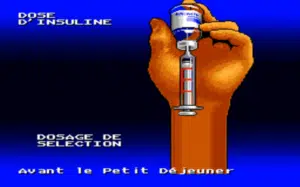 Later in the game, some guy gives you sturdy socks to protect your feet during your adventure. For someone who is new to diabetes, you may not really get why you're given socks, and the game doesn't explain it at all.
In short, if you want to challenge yourself with a difficult game, give Captain Novolin™ a try. Otherwise, we'd say it's not worth it. 
Type 1 diabetes in video games isn't at all mainstream yet, and so our short list ends here. Hopefully, we'll be adding to it in the future!